D'Entrecasteaux Channel
by John Quinn on 16 Nov 2005
This is Tasmania's most popular cruising ground, featuring miles of sheltered waters and safe, secluded havens between mainland Tasmania and the beautiful Bruny Island. The channel is only about two hours' sail from Hobart, dependent on the wind of course. The waterway is entered between Pierson's Point and Dennes Point on Bruny Island, from where you can sail south across North West Bay to Barnes Bay, a highly popular overnight destination for the weekend sailor, is less than an hour's sailing from Pierson's Point.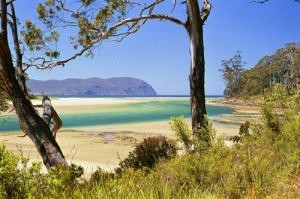 Cloudy Bay Bruny Island © John Quinn
Barnes Bay offers a choice of several safe anchorages, and favourites include Sykes Cove, Alexanders, The Duck Pond and the Quarantines.
Across from Barnes Bay is Kettering, home of cruising yachts, where there are hundreds of boats in marina berths or moored in Little Oyster Cove. Kettering offers the visiting sailor a wide range of facilities at Oyster Cove Marina and South Haven Marina (all marina and facility details are listed at the end). In addition the visitor can secure boating equipment and distillate and fresh water from the Oyster Cove Chandlery and Kettering Marine. There are slipway facilities, and shipwrights are generally available to assist with any serious problem.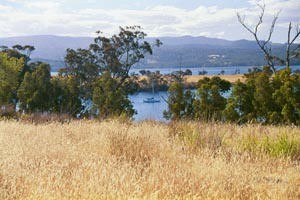 Alexanders Bay Bruny Island © John Quinn
Just a few miles south of Kettering is Peppermint Bay. Here the visiting sailor and crew can moor the boat or come alongside the small public jetty so they can sample the best of the state's food and wine. A marina complex is under consideration.
Sailing further south offers a range of other safe anchorages on both sides of the channel – from Snake Bay, Missionary Bay through to Little Fancy and Simpsons Bay. Drop a line and you're almost guaranteed a flathead!
Past Simpsons Point, the D'Entrecasteaux Channel moves into more open water where such delights as Partridge Island, the fishing villages of Dover and Southport, and the Huon River offer magnificent scenery and some delightful anchorages. An hour's sail up the Huon River brings you to Port Cygnet a delightful village – the pub lunch is well worth the short walk to town and a night moored out side the boats in Copper Alley Bay will guarantee a peaceful night in most weather. For those interested in traditional boat building the Wooden Boat School is further up the river at Franklin.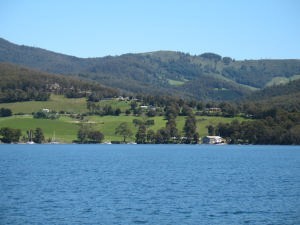 One of the many bays in the D'Entrecasteaux Channel © John Quinn
Cruising yachts can sail south into the historically important Recherche Bay, gateway to the southwest wilderness. While an attraction in itself, Recherche is the stepping stone to Port Davey. This voyage is not for the faint-hearted, but rewards the adventurer with its pristine beauty and virtually primitive, untouched grandeur.
Alternatively, you can sail east and circumnavigate Bruny Island through The Friars to Adventure Bay where both Cook and Bligh took on water and timber.
If you want to link to this article then please use this URL: www.sail-world.com/1995